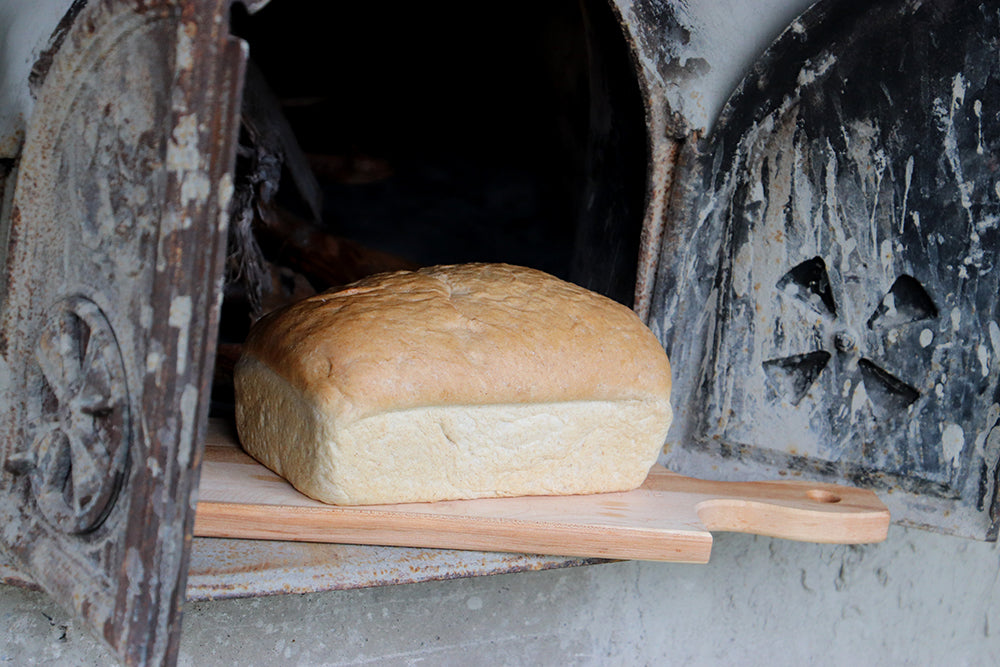 Preparation: 30 min.
Cooking time: 55 min.
Servings: 5
Maceration: 4h30 (rising time)
The yield for this recipe is approximately 5 medium loaves, depending on the size of the molds used.
Ingredients and preparation
Ingrédients

½ cup (125 ml) lukewarm water
1 C. tsp (5 ml) sugar
2 sachets active yeast
4 cups (1 L) lukewarm water
3 tbsp. tbsp (45 ml) sugar
4 tbsp. teaspoon (20 ml) salt
3 tbsp. tbsp (45 ml) vegetable oil
4 cups (1 L) all-purpose flour
8 cups (2 L) 85% whole wheat flour from Moulins de l'Isle-aux-Coudres
Préparation

In a bowl, mix ½ cup lukewarm water and 1 tbsp. teaspoon of sugar. Mix to dissolve the sugar. Add the traditional yeast packets. Leave to rest for 15 mins.

In a large round bowl that you use simply for bread or for a large quantity of pancakes, put 4 cups of lukewarm water, 3 tbsp. tablespoon of sugar, 4 tbsp. teaspoon of salt and 3 tbsp. oil soup. Stir well with a whisk. Add the yeast mixture (after 15 minutes of rest) and stir again.

Sift together all-purpose flour and whole wheat flour.

Gradually add 1 cup (250ml) of flour at a time to the lukewarm water mixture, stirring with a whisk.

Toward the end of adding the 12 cups, knead the dough until it is almost no longer sticky. Add a little all-purpose flour if needed.

Oil the bottom and around the bowl. Place the dough in the bowl, cover with a damp cloth and let rest for 10 minutes.

Knead lightly again in the bowl. Cover with a damp cloth and a dry cloth. Leave to rise for about 2 hours.

Roll out the dough. Separate the dough into portions to put in oiled molds, calculating two balls per mold. Cover with a damp cloth and a dry cloth. Leave to rise for 2 hours.

Preheat the oven to 300°F (150°C). Cook for 55 min. in the middle of the oven.

Unmold and brush the tops of the buns with butter. Cover with a dry cloth to let them cool.